The versatile, drumming powerhouse Vernon J. has had his sticks in motion for more than 4 decades. During that time he has worked tirelessly to craft an unmistakable drumming sound and style that makes his love for music and drumming evident.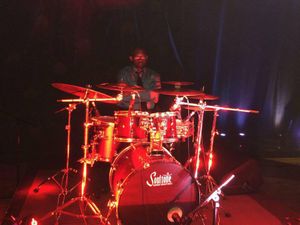 Vernon J. began his musical journey at a very young age. He began playing the trumpet in church along side of his father Joseph(organist) and his brother Warren(bassist & guitarist). Being in a musically rich environment Vernon J. begin to understand rhythm, melody and harmonies. This understanding would continue to be strengthened and molded as Vernon J. matured. Though loving his instrument, Vernon J. had his eyes and ears on the drums. The drums provided young Vernon J. with new ways of musical expressions. Being intrigued by the many sounds of the Hammond organ prevalent at church, Vernon J. decided to follow in his father's footsteps by adding piano and organ to his list of instruments.
Many years have passed and Vernon J. continues to refine and expand his musical skills on all levels. In 2002 Vernon J. formed the band Fusion Jazz Trio. This award winning band has become a recognizable name throughout the Lehigh Valley and many other areas. Though Vernon J.'s primary focus is Fusion, he still finds time to play with many local artist such as Gene Perla(Miles Davis/Nina Simone), Moe Betta(Wyclef Jean), Richard Cummings(Harry Belafonte), Bakithi Kumalo(Paul Simon), Rio Clemente(The Bishop of Jazz) and a host of others.

In addition to being a drummer's drummer Vernon J. served as church organist/musical director for 24 years at Community Fellowship Cathedral. Currently he is the Minister of Music at the Restoration Temple FGBC in Allentown and is accompanied by his son Christopher. The sound of Vern's Hammond organ can be heard out front and will certainly help in lifting your spirit.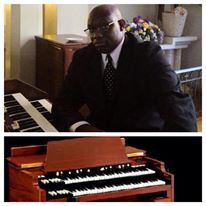 Vernon J.'s musical talents go beyond just being a musician. His talents have allowed him to serve as a part-time faculty at DeSales University, an accompanist for the dance department, compose original music scores for individual dance performance pieces as well as several dance shows.  For more details check out the composer page.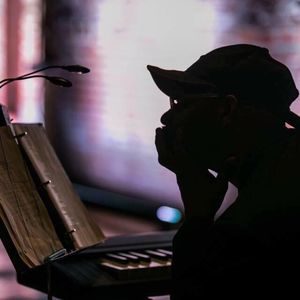 Regardless of the instrument, if you are looking for an evening of great music it can always be found sharing a stage with Vernon J.